Thrive in Today's New Normal with End-to-End Data Insights.
Never an easy undertaking, running a profitable and enduring financial services firm has become abundantly more difficult due to the unprecedented events of 2020.
Facing a particularly grim future are those firms forced to confront today's uncertainty without the critical, up-to-date insights they need to survive. Even financial services firms enjoying some level of data insight need to find new ways to thrive in today's new normal.
The answer? End-to-end data.
What's needed is a smart system giving you instant access to an up-to-date, actionable pool of all data—no matter how complex or disparate its source—that you can easily manipulate and understand on your own to get the fast insights you need.
A system grounded in the key tenets of smart financial services that lets you optimize your approach for activities like client engagement, institutional client intelligence, anti-money laundering, investment reporting, and human resources reporting.
A system that helps you better grow revenues and profits, manage risk and regulatory compliance, and digitally transform your business.
A system making you fast enough to compete and pivot, no matter what comes your way.
Download this eBook to learn:
Why your current system is slowing you down

Why a smart, end-to-end solution can get you up to speed

The key attributes of a fast, end-to-end solution
After reading, you will have all the key considerations needed to think critically about smart data management and the necessary tools it takes to be steps ahead of the competition.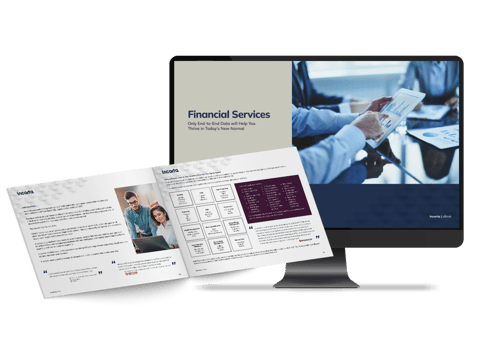 Our customers are breaking barriers
Innovators use Incorta to break lengthy cycles and are redefining real-time self service analytics.