The open data delivery platform
Simplify data delivery to Google BigQuery
Improve accuracy of analytics with BigQuery
Business teams struggle to get access to ERP and multi source system data to produce timely and accurate reports.
Incorta's open data delivery platform simplifies access and delivery of complex multi-source system and ERP data, including Oracle ERP and Fusion data to Google BigQuery at scale with speed, and efficiency. Incorta's unique approach delivers business ready data to all users to take immediate action. Incorta brings data in raw format together into one view. Keeping the data integrity allows customers to query the data per individual use case.
Google BigQuery and Incorta offer a joint solution that offers unrivaled access to data from complex source systems and the power, flexibility and scale of Google's Cortex framework to transform data access, consumption and innovation. Enhancing the Cortex framework with Incorta's exceptional data delivery capabilities gives you the power to innovate with your data and prepare for an AI-driven future for analytics and business insights.
Schedule a demo with us to see how Incorta enables BigQuery users to access:
Access all of your complex Oracle ERP and multi-source data

Quickly deliver this data to BigQuery to generate insights at scale

Easily deliver 100% of your data to Google BigQuery, Looker and AI/BI tools for analysis

Drill into the details for granular insights

Access hidden potential in your data to drive innovation in your organization



Reserve your spot and come meet our team at the Saudi Arabia Google Cloud launch on November 15, at Saraj venue, Saudi Arabia! Or Register to the live stream event to watch all the keynote sessions.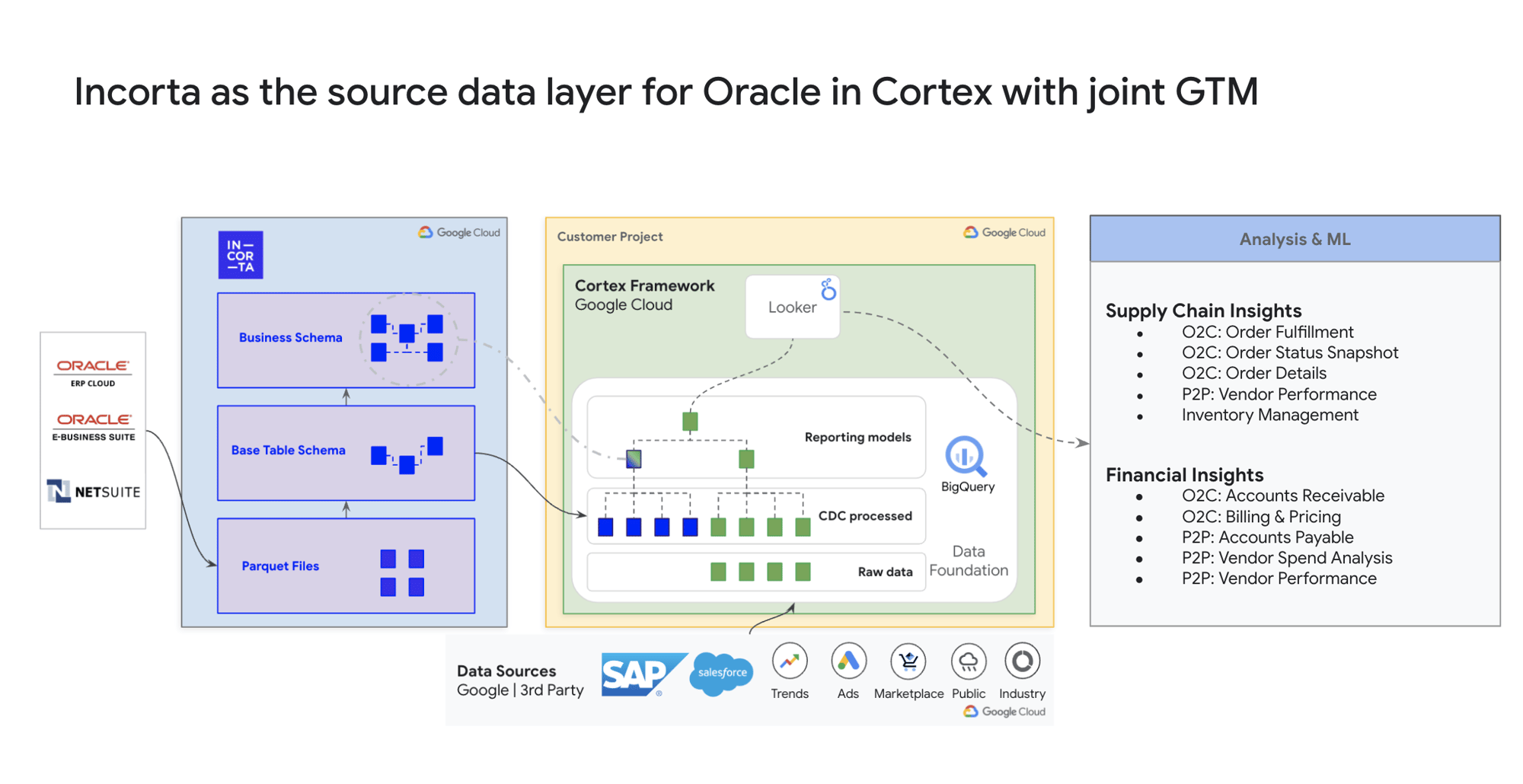 Register to our coming virtual hands on lab to learn how you can use the Google Cloud Cortex Framework and Incorta to:
Access all of your complex Oracle ERP and multi-source data

Jumpstart your journey with pre-built data applications

Implement CDC logic to build performant load plans for BigQuery

Quickly deliver this data to BigQuery to generate insights at scale